Adobe Illustrator is my go-to software for anything and everything design-related. It's the one program I truly couldn't work without.
And while it's easy to assume that the program's primary focus is illustration based on the name, there is so much more to this design software.
With tools for type, color, photo cropping, image tracing, drawing, and much more, it has innumerable benefits for bloggers and business owners, alike.
To get your creative gears turning, here's a look at 40 ways Adobe Illustrator can take your blog and/or business to the next level.
1 | Logos
While programs like Photoshop work with raster images (which are made up of pixels), Adobe Illustrator creates vector graphics (which are created with mathematical logarithms). Unlike raster images, vector graphics can be sized to infinitely large proportions, which are ideal for creating logos.
Illustrator also makes it easy to manipulate text, change colors, add illustrations, and stick to a grid – all of which are important for creating a strong logo.
2 | Sidebar buttons
Custom buttons in your sidebar and other pages of your website are a great way to differentiate your blog/business, make your website more interactive, and add interest to your brand.
I'm often asked how I create those colorful category buttons in my blog sidebar, and Adobe Illustrator is my secret. I simply used the ellipse tool to create each circle, drew some icons with the pen tool, eye-dropped my brand colors, saved the graphics as transparent JPEGs, uploaded them to my sidebar using Squarespace's gallery block, and added links to make them "buttons."
3 | Infographics
Infographics are a great, engaging way to display information and data on your site. They are also highly sharable, meaning they're often pinned to Pinterest, mentioned on Twitter, and linked to on Facebook.
Adobe Illustrator gives you all of the necessary tools to create custom infographics for your business.
4 | Blog post graphics
One fantastic way to set your blog apart and make it appear professional is to create cohesive, streamlined blog post graphics.
Not only are they more eye-catching in feed readers and on social media, but they're also much more shareable and have the potential to reach a wider audience.
Adobe Illustrator makes it easy to create custom graphics and allows you to create templates, which can save you time in the long run.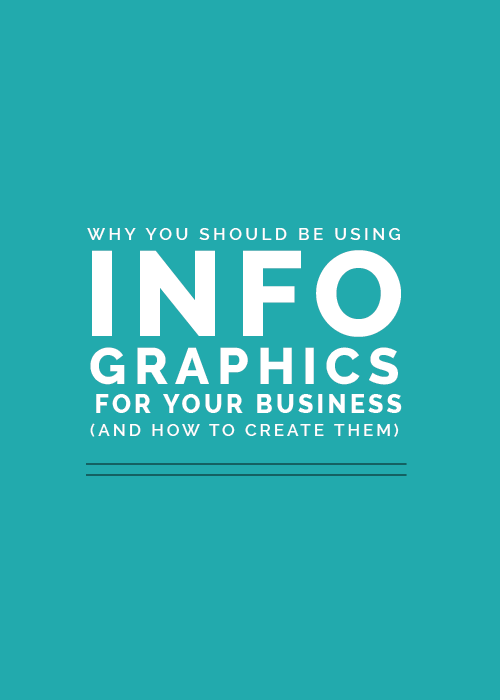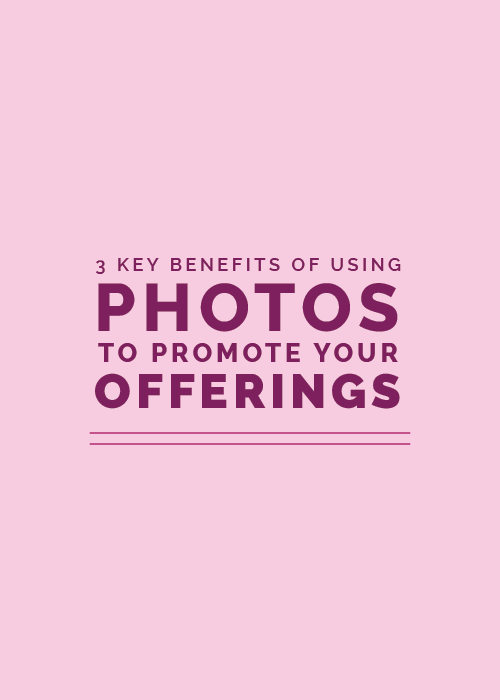 5 | Sidebar advertisements
Whether you're advertising aspects of your business on your website or you're advertising about your business on another website, Illustrator is very helpful for quickly and easily creating a sidebar ad.
Size your artboard to the correct dimensions, place an image, add your logo, save for web, and you're good to go.
6 | Facebook Items
Consistency is key in blogging and in business, especially when it comes to your brand.
By designing items like your Facebook cover image, apps, and profile picture in Illustrator allows you to maintain consistency across the colors, typefaces, and elements you use throughout your brand.
7 | Promotional graphics
Giveaway items, product launches, business announcements – you want large events and promotions to gain attention, and a great way to do that is by creating branded graphics.
Adobe Illustrator allows you to do all of this easily by placing and cropping photos, adding text, and manipulating color.
8 | Inspiration boards
Whether you're an interior designer, graphic designer, event planner, or simply a blogger who is looking for a starting point in the visual direction of your brand, you can benefit from creating an inspiration board.
Illustrator makes it easy to bring in photos, crop them with a clipping mask, and rearrange them to fit into a cohesive composition.
9 | Email signatures
A consistent, professional brand is carried across the big things and in the small things, too. It's all in the details.
You can use Adobe Illustrator to pull in your logo, add some type for your name, title, and contact information, save, and upload.
10 | Media kits
If you accept advertisers on your website or partner with other brands, it's often helpful to have a media kit available to provide your site stats, social media following, an overview of your average reader, etc.
You can easily set up a media kit in Illustrator, save it as a PDF, and email it to potential advertisers or collaborators when they inquire.
11 | Photo cropping
Although Photoshop has more photo editing capabilities, Illustrator does allow you to make a clipping mask which crops images down to different shapes and sizes.
For example, the photo in the sidebar below was cropped by using a clipping mask in Illustrator. I also use clipping masks to crop the photos used in my client inspiration boards.
12 | Business cards
Why use a boring business card template when you create a custom design that blends in seamlessly with your brand?
Illustrator makes it easy to create and save business card designs for print.
13. Social media icons
Like I said before, it's all in the details. Even something as small as a social media icon can reflect the rest of your brand and make your site appear more professional and cohesive.
In Illustrator, you can change the colors and styles of the typical social media icons and make them more your own.
14 | Signage
Whether it's a large billboard or a small display sign, you can design all kinds of signage for your blog or business within Illustrator.
And because it's all vector-based, you can size graphics as big as you would like (except if they include photos) without the image appearing pixelated.
15 | Handouts & worksheets
Many times in speaking engagements, online courses, workshops, and consultations, it's helpful to have a handout or a worksheet to help participants follow along and take notes.
This can be done through an online PDF or for print within Adobe Illustrator.
16 | Borders & Patterns
Custom borders and patterns can be created within Illustrator with the help of the grid, ruler, and brush tools. These can be used on your website, on custom forms, on business cards – again, the possibilities are endless.
17 | Stamps & Stickers
Never underestimate the value of pretty packaging. Something as small as a sticker on the outside of a package or a stamp on the outside of an envelope can make your brand appear more professional and intentional.
Create artwork for stamps and stickers in Adobe Illustrator, set them up as the right file size and type, and send them off to be crafted and printed through a third-party source like Moo.com.
18 | Gift cards, gift certificates, & Coupons
We all know what those run-of-the-mill, store-bought, fill-in-the-blank gift certificates look like.
Put your own mark on gift cards, gift certificates, and coupons by creating them in Illustrator with your logo and your brand's colors and typefaces.
19 | Stock image customization
Stock images are popular among small business owners and bloggers, and they're often bought with the intent of adding items like a print, card, or website to the photo.
While Photoshop is a great software program for photo editing, Illustrator can handle simple things like dropping, drop shadows, and color matching, too.
The images below are Elle & Company photos, but I used Illustrator to customize the screenshot and the text on the gift tag.
20 | Presentation slides
While programs like Keynote and Powerpoint allow you to customize your presentation with type and colors,
Adobe Illustrator can help you take your presentations to the next level through custom graphics, patterns, borders, etc.
21 | Invitations
Do you have an exciting upcoming event for your blog or business? Create a custom invitation with Illustrator.
You can set it up for print with marks and bleed for cropping, or you can save it for web to be sent via email.
22 | Event badges
If you're a site that features other bloggers and business owners, you might consider using Adobe Illustrator to create a custom badge for them to add to their blog sidebar that links back to your site.
Event badges are also great for giving out for those who attend your business or blogging event (like a conference or a workshop).
23 | Backgrounds & wallpapers
Illustrator is great for creating sharable content like backgrounds and wallpapers.
Create something original, size it for devices like smartphones, tablets, and laptops, put your logo on it for easy marketing, and share the files on your blog.
24 | Contracts, timelines, & quotes
Bring your branding into your business forms with Illustrator to make your blog or business appear more professional and legitimate.
Use consistent fonts and colors, add your logo, and save the file for print or for web.
25 | Greeting cards & notecards
Put your own personal touch on thank you notes and client gifts with custom greeting cards and notecards.
Illustrator makes it easy to size your artboard to the correct dimensions and save the files for high quality print so that the resolution of the final product looks great.
26 | Shop banners & customization
If you run a store through Etsy or Shopify, Illustrator is a great way to create custom banners and informational images for your shop and help it stand out among the competition.
Use a clipping mask on an image to fit the correct dimensions, add your logo, save for web, and upload to the site.
27 | Digitizing sketches & lettering
If you're a calligrapher or hand-letterer who's looking to digitize type, Illustrator has some great options for you with image trace, the direct selection tool, and the pen tool.
28 | Brochures
Whether you're preparing for a promotional event, creating a to-go menu, or outlining your different service packages, you can set up your artwork and type using Adobe Illustrator.
29 | Packaging labels
Do you sell products? Illustrator allows you to use grids and rulers to set up and create your packaging graphics yourself.
Whether it's a sticker with your logo to go on the back of a custom print or a label for food packaging, you can create it all within the software.
30 | Illustrations
Illustrations are a fun way to add personality and interest to websites, collateral items, and more. Use the pen tool in Illustrator to create your own custom illustrations that fit in well with your brand.
31 | Printables
Just like backgrounds and wallpapers, printables give your audience something to take away and share from your site; they add value.
With Adobe Illustrator, you can easily create printables, save them as a PDF, and upload them to your site for others to download.
32 | Vendor guides
Are you looking to reach out to possible vendors for an upcoming event or network with other businesses in your industry? Creating a vendor guide in Illustrator is a great idea for highlighting the ins and outs of the event and gaining support and attention.
Design it as a PDF for print or save it for web to be sent by email.
33 | Favicons
Use Illustrator to create a custom image that will appear at the top of a browser tab, whether it's your logo, a brand element or illustration, or the first letter of your business name.
Favicons are a small way to add more consistency (and a fun surprise) to your site.
34 | Postcards and mailers
Because sometimes an email can't top getting something other than bills and credit card applications in your inbox.
Customize these print materials in Illustrator by bringing in all of those brand elements like your logo, borders, colors, and typefaces into Illustrator.
35 | Templates
Are you trying to streamline giveaway graphics on your site? Or maybe you're interested in making more cohesive graphics on your blog. You can do that through Adobe Illustrator's template feature.
Set up templates for consistent product images, quotes for social media, or Twitter chat graphics, too.
36 | Mockups
I use Illustrator often for client mockups, whether it's to give them an idea of what their new brand will look like on social media or what they're website will look like live.
The software is great for displaying mockups before committing to a final product, and it allows you to easily move things around and make changes.
37 | File saving
Do you ever come across a situation where you need your logo in a different file format or size?
Adobe Illustrator makes it easy to save different file types and adjust the settings based on whether the final product will appear online or in print material.
38 | Pricing guides
If you don't feature your prices on your website, it's often helpful to create a pricing guide PDF to send to prospective clients in an email to give them a well-rounded picture of your offerings.
Just like media kits and vendor guides, you can easily set up the pricing guide in Illustrator.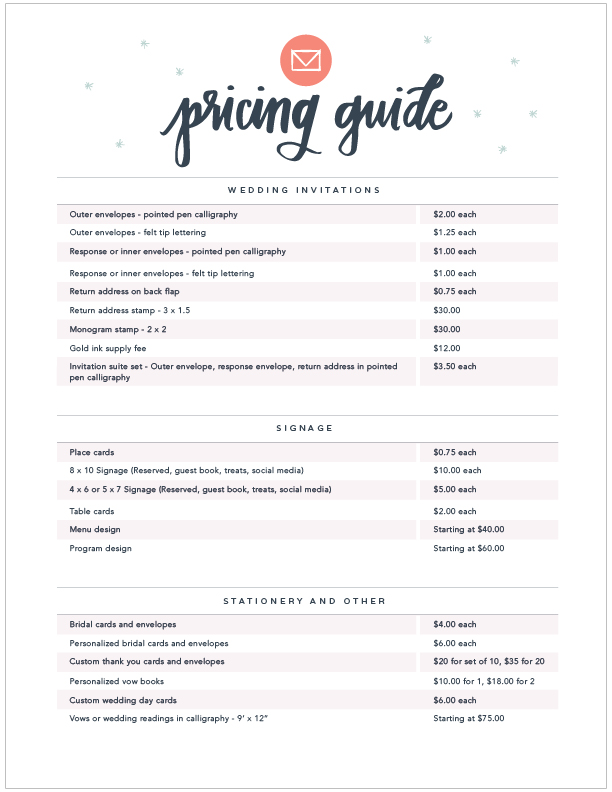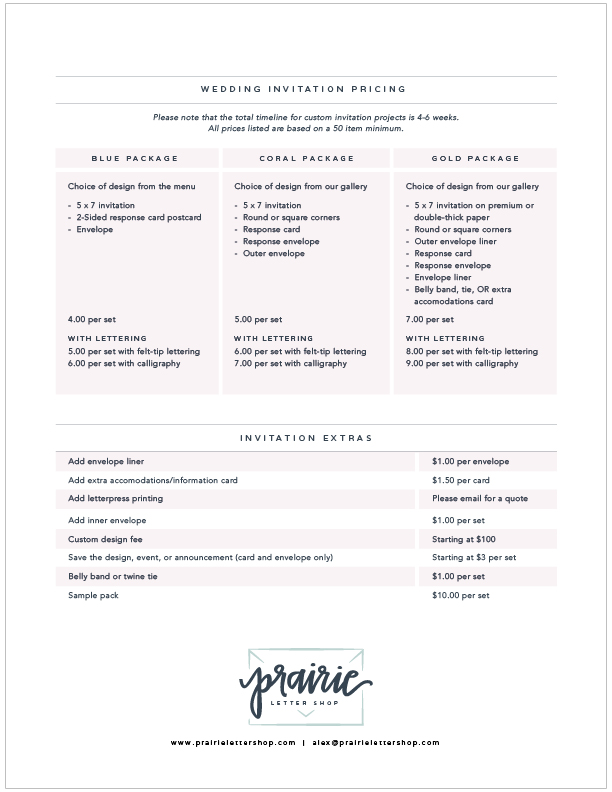 39 | Resumes
If you're looking for work and clients, creating a resume in Illustrator is a creative way to brand yourself and set yourself apart from the competition.
I've said this several times within this post already, but pull in your custom logo, fonts, colors, and brand elements to make your resume distinctly you.
40 | Collateral designs
The artwork for t-shirts, coffee mugs, pencils, bridal binders, magnets, car decals, clothing tags, even custom aprons can all be set up in illustrator. Like I said, the possibilities are truly endless!
source: https://www.elleandcompanydesign.com/blog/2015/3/9/40-ways-to-use-adobe-illustrator